MSP evaluation design
In case you prefer to evaluate the solution and its functionality before implementing in production, you can go for a Single-Server installation. This design does not follow the best practices, but it allows you to check out the solution's capabilities and UI. Do not turn this evaluation design into a production design. Instead start over with a proper production deployment.
In a production environment, the recommended deployment is to spread out the different roles/services onto different servers. This way we can balance the load and add more resources to specific components when needed.
VCC dependency
VSPC uses the tunneling technology of Veeam Cloud Connect (VCC) to create secure connections over public networks to the remote components such as Veeam Agents and Veeam Backup & Replication servers. Even if VSPC is only used for remote monitoring or licensing, VCC needs to be deployed.
VCC evaluation design
Similar to VSPC, all VCC components can be installed on a single Windows machine. This will combine all of the following components onto the same machine:
MSSQL Server (Database Server)
VCC Server
VCC Cloud Gateway
VCC Proxy
VCC Backup Repository
A complete Veeam Cloud Connect production design is available at vccbook.io therefore this design guide continues directly with VSPC below.
VCC system requirements
The different VCC components run on Microsoft Windows. Therefore we need to provide a single (virtual) machine with the following system requirements:
|   | VCC Server |
| --- | --- |
| OS | Windows Server 2019 |
| CPU | 4 Cores |
| RAM | 8 GB |
| Disk | 50 GB |
VSPC evaluation design
This will combine all of the following components onto the same machine:
MSSQL Server (Database Server)
VSPC Server
VSPC Web UI
The deployment as follows: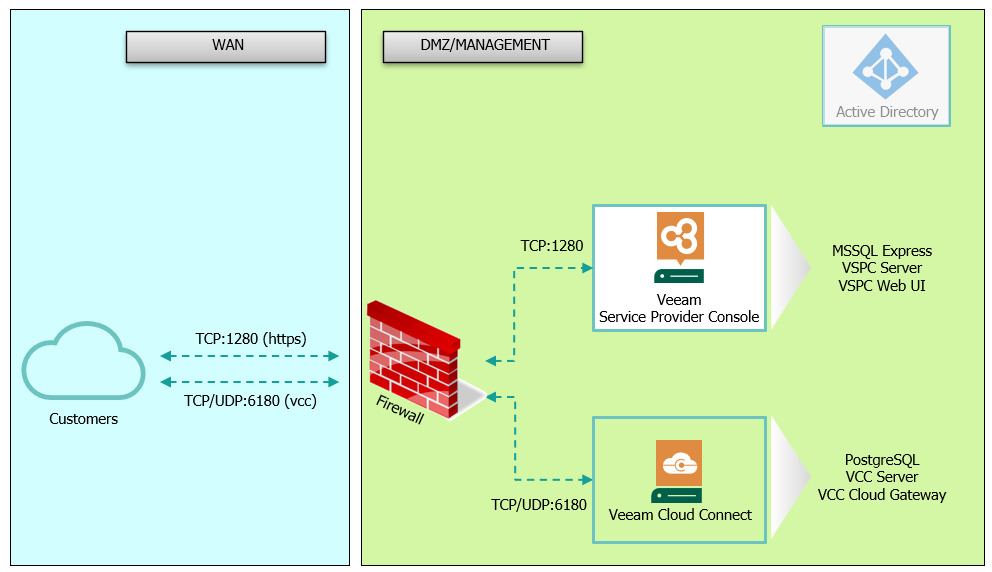 VSPC evaluation system requirements
The different VSPC components run on Microsoft Windows. Therefore we need to provide a single (virtual) machine with the following system requirements:
|   | VSPC Server |
| --- | --- |
| OS | Windows Server 2019 |
| CPU | 4 Cores |
| RAM | 8 GB |
| Disk | 50 GB |
---