Service Provider Data Protection
Service description
Infrastructure-as-a-Service (IaaS); also known as a hosting service provider (HSP); is an IT service company that provides remote IT resources and/or services enabling individuals, companies or managed service providers (MSPs) to host websites, databases, applications and other critical systems. HSPs mainly help companies reduce costs and free up the IT teams from day-to-day management of the IT infrastructure. Customer data that resides in the Service Provider's infrastructure should be protected, however this can be a great challenge without a proper solution in place.
A Service Provider can build a Veeam-powered service to provide managed or unmanaged Backup and Disaster Recovery on top of their IaaS offering.
The main services offered by the service provider are:
Backup. Backup and recovery of customer's production workloads residing in your hosted infrastructure. Most suitable for general workloads, applications or services where a RPO and RTO (such as 15 minutes to 24 hours), is acceptable.
Disaster Recovery. Create an exact copy (replica) of customer's virtual machines to another location. Most suitable for highly critical workloads, applications or services where a very low RPO and RTO (such as 30 seconds to several hours), is required.
Additional services that can be offered are:
Backup recoverability. Regularly test the backups to prevent corruption.
Disaster Recovery tests. Regularly update and execute the failover plans to be sure that when disaster strikes everything will be ready.
Ransomware protection. Provide immutable backup files while keeping the backup infrastructure secure.
Monitoring & Reporting. Provide advanced visibility using alarms, reports and dashboards for specific cases such as but not limited to (un)protected VMs, capacity planning, VMs without backup and more.
Easy onboarding. Backup, recovery and migrate to, from and across any cloud.
High-level diagram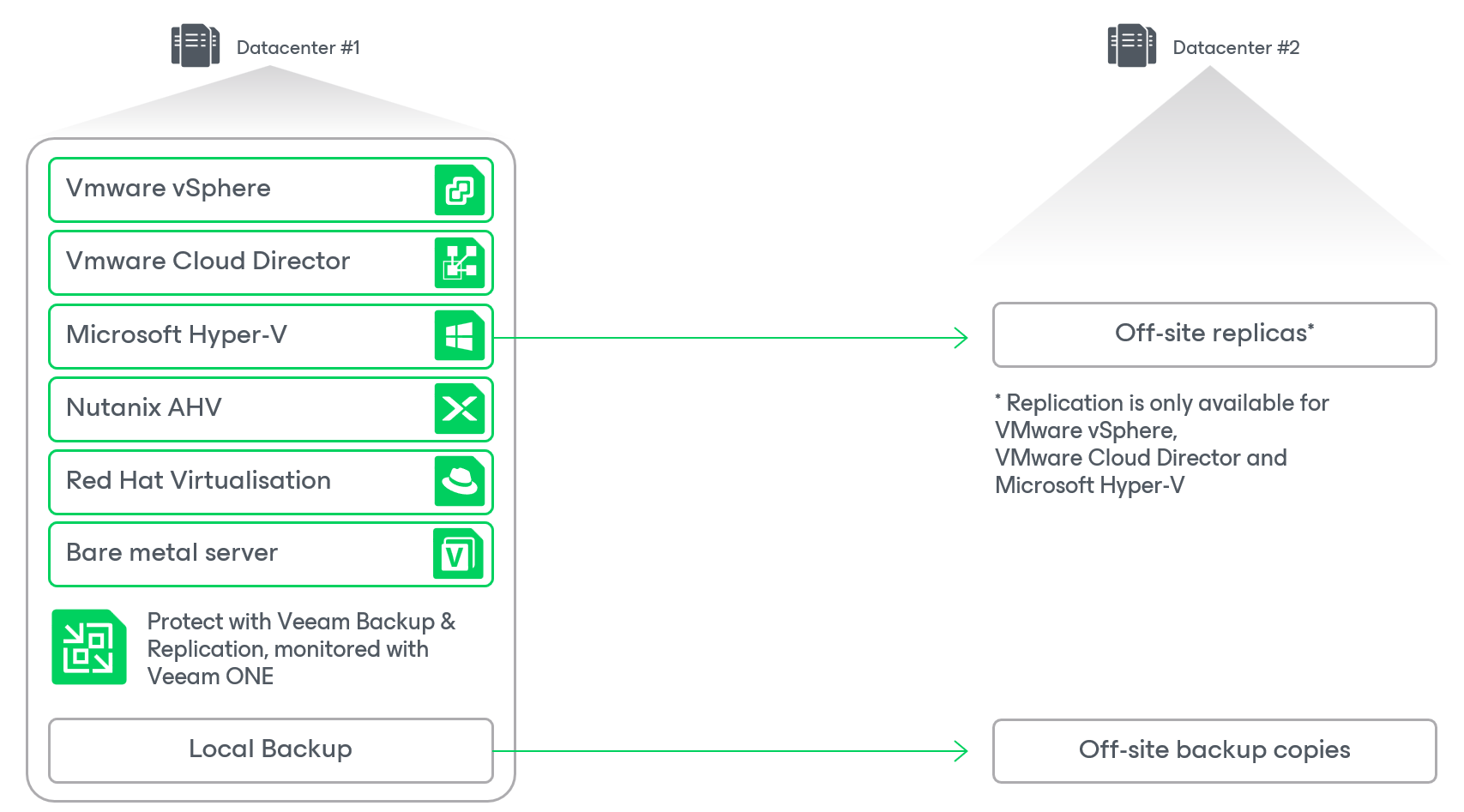 Value proposition
Service Provider benefits are:
Simple deployment. Veeam Backup & Replication's simplicity allows for an implementation in hours not days following the general best practices.
Self-service portal. Web-based out-of-the-box self-service backup portal that integrates with VMware Cloud Director (VCD).
Automation. Advanced capabilities via Powershell and RESTful API enabling complete management and automation of the solution. Retrieve customer's storage consumption for billing and more.
Customer benefits are:
Complete protection. Powered by Veeam Backup & Replication, downtime, data loss and ransomware threats can be eliminated.
Business focus. Focus 100% on business needs and let the service provider's expertise handle backup operations.
Secure. Backups are encrypted at source, in-transit and at-rest. This guarantees complete confidentiality to customers.
Self-service portal. Be in control over the backup and restore operations.
The solution can be offered as a managed or unmanaged service:
Unmanaged.

The customer is responsible for configuring the backup policies for the hosted workloads.
The customer is responsible for recovery actions such as full machine or file level restores.
The Service Provider can provide a self-service portal or console to the customer.
The Service Provider remains fully responsible for the underlaying platform.

Managed.

The Service Provider defines the RPO, RTO, SLA and more or defines them in accordance with the customer.
The customer contacts the Service Provider via a ticketing system or else when a restore needs to take place.
The Service Provider may provide a self-service portal or console to his customers to delegate and limit certain restore operations.
(e.g. allow file level restore without overwriting the original)
Veeam Solutions
The service is built with the help of the following Veeam solutions:
Licensing and pricing
Veeam offers the following:
Pay-as-you-grow pricing plans that offer consumption-based licensing
Portable licenses for any customer, any workload, across any cloud
Automatic license update capabilities to maintain license distribution
Purpose-built products and partner portals to facilitate monthly usage reporting
Please check our Veeam Rental Licensing and Usage Reporting Reference Guide for more details.
Service Providers can charge for the Veeam-powered service in different manners.
Options can include, but are not limited to:
Per machine protected. A Veeam license is consumed per backed up or replicated machine.
Total storage consumed. Pay-as-you-go per GB/TB.
Total storage reserved. Fixed price for the entire storage quota.
A packaged offering. Veeam license cost + fixed storage usage estimate per machine.
Per Backup/DR Recovery test. Or include it in the standard offering.
Per report created. Or include a set of reports in the standard offering.
Want to know more?
Enroll in our VMXP training course to learn more about the Service Provider Data Protection use case.
---
Table of contents
---