MSP Backup
Service description
A Service Provider can build a Veeam-powered service to provide managed data protection to his customers allowing them to focus 100% on their business. A customer's entire on-premises backup environment is fully managed by the Service Provider. To allow a certain level of self-service, the customer can use a web-based portal for recovering objects such as virtual and physical machines, VM disks, Guest OS files and Application items from Exchange, MSSQL and Oracle.
Additionaly the service can include, but is not limited to:
Remote monitoring and management (RMM) that allow access to the customer's backup environment for configuration, management and troubleshooting tasks.
Data protection for Virtual infrastructure workloads based on VMware vSphere, Microsoft Hyper-V and Nutanix AHV virtual machines.
Data protection for Physical infrastructure workloads based on Windows, Linux and MacOS.
Data protection for Public Cloud workloads running in AWS, Azure and Google.
Data protection for other kinds of workloads such as Oracle RMAN, SAP HANA and Network Attached Storage (NAS) File Shares.
Off-site backups to another location.
High-level diagram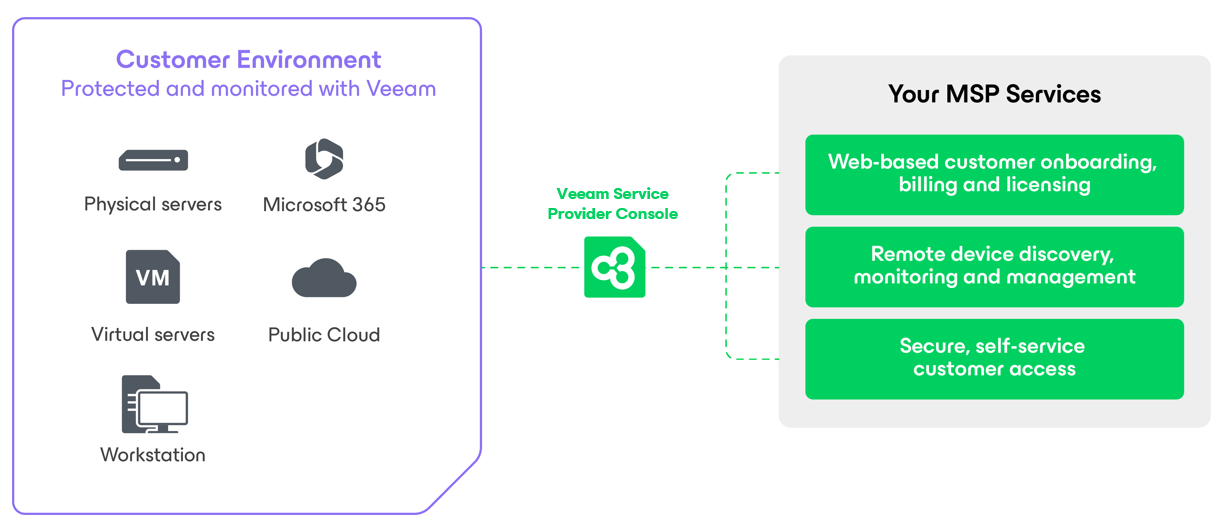 Value proposition
Service Provider main benefits:
No upfront costs. Pay only for the licenses consumed by the customer.
Centralized management. View and manage remote customer infrastructure from a single console.
Expand services. Start with managing the customer's on-premises backup infrastructure. Expand into Off-site Backup, DR and other services.
Automation. Fully manage and automate the solution via PowerShell or RESTful API.
Customer main benefits:
Business focus. Focus 100% on business needs and let the service provider's expertise handle backup operations.
Ransomware protection. Backups are protected from deletion via Insider Protection (Off-site Backup) or via the use of Immutable backup repositories.
Veeam Solutions
The service is built with the help of the following Veeam solutions:
Licensing and pricing
Veeam offers the following:
Pay-as-you-grow pricing plans that offer consumption-based licensing
Portable licenses for any customer, any workload, across any cloud
Automatic license update capabilities to maintain license distribution
Purpose-built products and partner portals to facilitate monthly usage reporting
Please check our Veeam Rental Licensing and Usage Reporting Reference Guide for more details.
Service Providers can charge for the Veeam-powered service in different manners. Options can include, but are not limited to:
Per machine protected, in- or excluding:

storage
management
support
monitoring
reporting
off-site backup copy

Storage consumed (e.g. per GB/TB)
Separately per machine protected and storage consumed
Fixed fee for the entire environment
Want to know more?
Enroll in our VMXP training course to learn more about the MSP Backup use case.
---
Table of contents
---